I would just like to thank you and your team at Boat Quay for the wonderful service they gave when we visited your Boat Quay outlet on 6th August 2015. Not only were the waiters very friendly and helpful, the meal service was fast and the food was delicious. Your recommendation of booking the entire floor also allowed the students to have a great time mingling with each other. All in all, everyone enjoyed themselves very much. Please pass on our thanks and gratitude to the staff at Boat Quay as well!
I called to personally thank you and your staff for the wonderful service! The arrangement was great and every little detail was taken care of. We were highly impressed with the installation of an additional wifi router just for us and appreciate the effort. Walia and Ramon made sure everything was up to the mark!
The food was amazing too and even though we had quite a bit remaining, there was nothing left to take back as most of the takeaway boxes were grabbed quickly by some of our guests. The guests loved the house-pour red wine too and I personally loved the Tiramisu. The venue was convenient and had a great view from upstairs.
I will definitely recommend Pasta Fresca Da Salvatore to any one else looking to host any dinner or private events. It surely is our go-to place for our company's future events.
Thank you once again for all your efforts,
We have had a lovely lunch at your restaurant on Sunday, 26 July. Our guests enjoyed the ambience tremendously, the quality of food and the gracious service by your staff-in-charge throughout our lunch. I particularly liked the idea of replenishing fresh foods from the kitchen and freshly brewed coffee for each guest.
My oversight was that I somehow have assumed that we were expecting your signature dessert, Tiramisu. I could have mixed up with our discussion on the set lunch. Nevertheless, we ordered and your staff served us promptly.
Thank you for providing a lovely premise for our event and pls convey our appreciation again to your staff member.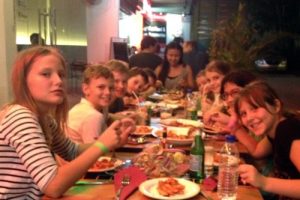 Dear Management and Staff of Pasta Fresca at Bukit Timah,
We would like to extend our sincere gratitude for your very friendly and attentive servicing of my daughter's birthday dinner at your restaurant last Saturday. Your friendly and patient attitude really made the evening very special for Laila and all of Laila's friends enjoyed being part of it. See you again soon at Pasta Fresca!
The food and everything was great!! We enjoyed ourselves thoroughly and thank u for arranging it for us!!
I had a function at your Boat Quay premise on Saturday 16 May to celebrate my son's 21st birthday. I would like to say a big Thank You to you and all staff of Pasta Fresca for the excellent support rendered in making the function a success. I would in addition wish to commend your Restaurant Manager – Mr Tirumal – for the excellent service and professionalism shown. He executed his task perfectly, from the taking of the each individual orders to ensuring each one got what they had ordered. There was no mistake. He was also so involved in executing other tasks himself. With such an attitude, I am sure he is well respected by the staff at Pasta Fresca. Definitely an asset to have Mr. Tirumal with you. Once again – Thank You
We had an enjoyable evening at Pasta Fresca Boat Quay especially our Bosses. They loved the privacy and ambience including the authentic Italian food and wine. Our compliments to the chef.
Your crew led by Mr Tiru together with Eleanora and another chap (can't remember his name) were extremely helpful and we felt pampered by their quality service.
Once again, thank you for facilitating and this is certainly a restaurant that's worth a repeat visit.
Pls extend my personal thanks to your boss and Glenn. They were very accommodating and great to work with for the lunch. Poor Glenn had to stand-in during the lunch and think he must be really hungry. It was such a pleasure to have him around and he was very helpful in all ways. The food was good, much better than I anticipated because I was worried about the pizza and pasta getting cold. The portable food warmers were great in keeping all the food hot and Glenn helped dish them out at the last minute when the guests arrived so they could have piping hot food.
With Thanks,
Good Food, with excellent catering service.. Keep it up!
Thank you very much for supporting us for a wonderful and successful wedding reception party.
Everything went really well, and we would like to express our gratitude to your chefs and hard working staff. Our guests feedback was also great, and I am sure they will come back to your restaurant. We hope to see you again in near future.
I ordered food catering for my farewell from Singapore on 14th May 2014 for about 50 people. The service was very efficient; the chef and his helpers arrived on time and arranged nicely and properly all the food above the tables and clearly explained how to serve it, how to warm it and so on. Food was delicious, especially appreciated were the fresh burrata and the gnocchi di patate al pesto. Food was in large amount and very generous portions. Highly recommended!!
Food is good and delivered on time, thank you….
Pasta Fresca serves authentic Italian food. The environment is very cosy and warm. The staff, especially the boss, is very attentive to details and service-orientated. I would strongly encourage anyone who is considering to organise events to hold their events there as they have one very important plus point on top of the above plus points – that is reasonable pricing.
We thoroughly enjoyed our time at your venue yesterday. Our staff all commented that they thought the food was tasty and offered good variety. We appreciated how you accommodated our request to have an informal gathering by having a few chairs but allowing people the freedom to mingle and visit with each other. The staff was attentive and very friendly. Thank you very much and we would certainly use Pasta Fresca again in the future!
Thank you so much for your arrangement last month for our solemnisation event at Pasta Fresca Boat Quay. We had a really great time that day! Thank u!
I patronized your restaurant on the 26 February 2014 at 1900 and was thoroughly surprised and impressed by the extraordinary service received from your team of waiters. We had booked the entire second level of your restaurant for a celebration. I am obliged to express my gratitude especially to the manager Maria, who worked tirelessly the entire night to ensure that our requests were met. She made sure that our jugs of drinks were constantly refilled and used plates cleared. This was no easy task considering her team of 3 catering to our large group of approximately 20 people.
In addition, we were also allowed to consume our own bottles of wine although wine was already sold on the menu. I am aware that this might be against company regulations so I would once again like to show my appreciation to Maria for her flexibility on this special occasion. Lastly, at the end of the dinner, there was a significant amount of food leftover so we requested to take them home or they would have gone to waste. Maria gladly allowed us to do so and even provided us with plastic containers to keep the food in.
I am certain that all the waiters had put in effort but I think that Maria deserves special mention for exhibiting exemplary leadership. Hence, I want to make sure that your company is aware of this.
Therefore, I want you to know that we are very pleased with the quality of service that your restaurant provides and I want to give my personal compliments to the team for their effort that night. I will be looking forward to being served by them again in the future and will also be recommending this place to all my friends and family.
We were very happy with all aspects of our company dinner on the 26th. The private dining room was perfect for the occasion and the food was wonderful.
The service staff were attentive and professional. Basketball Enterprises would be more than willing to use Pasta Fresca Da Salvatore for future company functions.
Thanks to everyone at Pasta Fresca for making this event possible. Everyone had a wonderful time. Thanks for the kind support from Pasta Fresca and we hope to have the chance to work together again soon. 🙂
Our My English School year-end dinner at Pasta Fresca @ Boat Quay was a great success and we all had a marvellous time!
I received numerous positive comments from my colleagues. They particularly enjoyed:
– the delicious food
– the pro-active service
– the atmosphere of your restaurant
and will remember it happily. That is the reason we all stayed so long…
I would like to thank you, Tiru and the team for making that wonderful evening happen and for going the extra mile for us!
We will be happy to return next year!
Everyone enjoyed all the food yesterday. Please pass on our compliments to Chef Angelo.
Thank you for all the arrangements that you've made to facilitate our celebration. The ground team at the restaurant has been wonderful. Please thank them too.
Everything went well last week! Thanks for the arrangements and efforts in coordinating this event.
Appreciate it. =)
"Fantastic service and food!"
Reviews from Hungry Go Where
"Delicious Pasta"
A very cozy and warm Italian family restaurant.
Enjoyed their hand tossed thin crust pizza and their savoury thick pasta..
"Consistently Above Average"
We go to this restaurant more often than any other. My daughters love their pizzas and desserts and wife & I cannot have enough of their pasta, lasagna and crepes.
What stands out, apart from the excellent service standards, is the quality of food. It never wavers. It has been so consistent in being good to excellent, that it's become adorable. No corners are cut, the ingredients always taste fresh, the cream and cheese have just the right texture. It's like fine dining with McDonald's standardization.
Our favourites are the gnocchi in quattro formaggi, the veg lasagna, the pizza and piadiana, the crepe in something vegetarian and sometimes the caprese. The chocolate mousse is of the valhorna chocolates with a lovely thick flavor.
This is must go to eat every month restaurant. Kudos to the management and the staff.
"Sensational Taste spot on staff"
Sensational food, authentic flavour, spot on service. It was a delight to experience good food and service with the lovely ambiance of Boat Quay overlooking the river. I asked the waiter about the wine and was given a taste and was impressed. The house wine was also top quality.
"Great place for delicious Italian food."
A nice location and it's quite cosy, plus, the food is really yummy. My favourites:
Linguini Alla Caprese – Nice chunks of mozzarella, tomatoes, and just the right amount of saltiness. The taste of the olive oil isn't too overpowering but there's a nice tinge.
Fusilli Alla Siciliana – My all time favourite! I'm not a fan of eggplant but I would gladly eat it all in this dish!
Lasagne Gratinate All' Emiliana – Creamy and beefy—gooood.
I also really really like their Bruschetta Al Pomodoro Fresco.
Best bread sticks I've had so far. I think this is my favourite Italian restaurant so far! 🙂 (But it's a tad pricey)
P.S. It's also fun to see the chefs at work
"Excellent Italian food in Singapore!"
I frequent Pasta Fresca Da Salvatore Italian Restaurant (Boat Quay), three years in a row when visiting Singapore. Sometimes anyone away from home may want to go back to familiar dishes. This restaurant has a very convenient location. They also offer very good quality products for cooking and most importantly very friendly and helpful staff! Thank you so much to professional Chef Alessio and all service staff! The restaurant can accommodate a large number of visitors (spacious terrace, tables inside the restaurant) but if you for lunch or dinner at peak hours and want a more cozy table, closer to the river, it is better to book it in advance. Recommended dishes of pasta in different versions (choose the type of pasta, sauce, spices). Very tasty parma ham (here it is served with tender mozzarella cheese), homemade cannelloni, great dessert!
"The best pasta with four cheese I've ever eaten"
In addition to a very nice location, this was the place where I experienced the best pasta with four cheese in my life. I've been there twice and ate gnocchi and rigatoni (both with the same sauce). I thought the gnocchi is better than the rigatoni but the sauce was sensational.
"Great Pizza and Pasta"
Me and my wife had lunch at Pasta Fresca Boat Quay during a recent short trip to Singapore. We ordered one pizza and one pasta, both outstanding. Usually we don't like too much cheese on our pizza but that mozzarella was so amazing that we were glad it was 'too much'! The dough was full of flavor and cooked to perfection, much better than many pizzas we have eaten before, believe it or not, even better than many pizzas we ate in Italy! The pasta dish had that distinctive flavor of simple and fresh ingredients which represent what the 'real' Italian food is all about. Even though we were there during lunch rush hour and the restaurant was full, the service was fast and good. We didn't experience any of the problems some reviewers reported, overall we left very satisfied and definitely recommend it.
"My start of Italian food in Singapore"
For a historical Italian trattoria since born in Singapore, Pasta Fresca has been around and somehow it has implanted a basic Italian food standard. Having been to Italy and tried many authentic Italian styled food. Pasta fresca has maintain their above average standard. Not going to review much as I tried all the chef recommendation. Thus summary, the taste is good and the thought of nothing will go wrong with pasta fresca is good. Good quality ingredient and spices thus try them. No exceptional taste but won't go wrong.
"Best Italian Restaurant in Singapore"
Pasta Fresca has the best Italian food in Singapore. Every year for my birthday dinner, I choose to go to Pasta Fresca. Since young, my parents have brought me to Pasta Fresca and I've sort of grown up with it. I have seen it change over the years but the quality and consistency of the food they serve has remained the same. I truly recommend this place for anyone who wants to have good Italian Food in Singapore!
"Best Italian Restaurant in Singapore"
By far, the restaurant offers the best Italian food in Singapore. The cream based pastas are my favourite, both alfredo and carbonnara, but there are more to entice your taste. The service is top notch, and the staff are always smiling.
I used to frequent their shop in Katong, pity it closed couple of years ago. I started frequenting their outlets in Siglap and BoatQuay. Honestly, there has never been a disappointment.
"Authentic Italian fare, but actually located at 30 Boat Quay"
We work in UOB Plaza on Boat Quay so this is our local Italian for lunch. We always start by sharing a Piadina, which is an Italian flatbread with tomato, chilli and herbs. Then you can choose a variety of oil based, cream based, tomato based, etc sauces to pair with a large selection of pastas, including several different types of vegetarian and meat stuffed pastas (eg ravioli) in addition to tagliatelle, fettuccine, spaghetti, pappardelle, not to mention home made gnocchi. There is also a good range of pizzas, which are substantial and excellent too.
Everything is freshly made and delicious and always comes hot out of the kitchen straight to the table. Service is friendly and efficient and overseen by a kind Italian lady. We will keep coming back every week as long as it remains this good!
"Excellent Steak"
This review is for the Boat Quay restaurant – there are several restaurants of the same name in Singapore. We first came here when looking at the many restaurants in boat quay. The restaurant looked nice and they didn't hassle us, unlike most of them. I had some of the best steak I have had for a while and on a second visit, I had the steak again and it lived up to expectations. All the food was good and the service was pleasant and efficient. The location means it is expensive but it is worth it.
"Great Food"
I was only in Singapore for 3 days and ate here 2 nights running. I live in Brunei so was delighted to find an Italian restaurant with a real Italian menu right by my hotel. I had the Risotto al Frutti di Mare the first night, the risotto was perfect and the taste was really good, the squid was a touch underdone for risotto but cooked to the Asian standard so I was not surprised and it did not spoil the meal at all. I had a glass of house white, which was a very drinkable wine, but didn't quite go with the tomato flavour of the meal, perhaps alternatives for the house wines could be available to the waiting staff depending on food choice?
Second night I had Bruschetta Pomodoro, which was perfect, great olive oil, beautifully fresh tomatoes on fresh bread still warm from being toasted, and just that hint of garlic and basil. Followed this up with a Pizza Rustica (mushroom and salami), the thin base was just right, seemed to be freshly made, and the tomato sauce which went onto the base was really good. The Lime juice I had the third night was a nice surprise, for those of you who travel in SE Asia you probably know they have everything extra sweet, well the lime juice here was still slightly sharp, just like you would get in Italy. All in all great food for very reasonable cost (approx $30).
My friends were in shock when I told them I never tried Pasta Fresca till this year – apparently it was every family's restaurant of choice back when we were younger. Must be that crazy jingle that kept playing on TV – I can still hum the tune from vague recollection.
So, I finally tried it and I can see why all my friends have fond memories of it. It is a little bit like Jack's place, the Italian edition (and with better food). The interior decor makes for a nice casual date or dinner with a large group. I had the mushroom and vegetarian pizzas and both were pretty good – the base was not to thick and they were very generous with the toppings. The vegetarian is probably the winner because of the effort taken to char-grill the vegetables which gave the pizza an extra kick of flavour.
Will be back for more, have to make up for lost time!
This is my favourite branch of this Italian chain, due to the option to sit by the river. It's really pleasant to just kick back after a long week or day and feel the evening breeze blowing through your hair. On the downside, the sitting capacity of the restaurant immediately halves if it rains too heavily as you wouldn't want to sit outside.
I've never tried anything else here by the pizza, and they're good stuff. The crust is hot and yummy, and the ingredients fresh. If you're not too sure what to order, give the margherita a go before ordering anything else, as I believe that you can tell how good a restaurant's pizza will be through its most basic dish.
I'm a big fan of the marinara and the vegetariana.
If you're feeling in the mood, you can give their selection of wines a shot. All the fancy wines in bottles are pretty expensive, but you can always get a glass of house pour for S$8.30. Or, if you're like me, you'll stop pretending you understand wine and just order a beer instead! 😉
I just want to commend every single waiter and waitress who were serving my table during dinner on 26 November between 7:30 to 10pm. A group of us were celebrating our friend's birthday.
I do not remember their names, but there were one waiter and two waitresses in white shirt, and one more lady who I presume is the manager.
Customer service was excellent and very friendly. We even had a complimentary slice of cake for our birthday friend.
Keep it up!
Cheers
I am not 'big' on writing "thank you" notes; but I truly believe that your staff at your Boat Quay restaurant deserves this and so much more!
Allow me to share what happened. I had family visiting from overseas and we had planned to meet for dinner and celebrate at Boat Quay last night. Having arrived late after work myself, we ended up at your restaurant (we love Italian food!) at 15 past 10, I myself starving.
However, although it was late, the staff were willing to take our main course orders. All in all, service was prompt and we got our food pretty fast. Now, it was also a surprise birthday for 2 gals in the group. We had to sneak the cake past the entourage at the table & that was done tactfully by your staff too!
Time for dessert and the clock showed a little after 11. I felt bad when I realized that that staff were done with their clean-up and were hanging around, just for us! I apologized to one of your staff who was lingering at the foot of our table, not 'being stalker-ish', but I believe he wanted to be at a 'ear-shot' if we needed anything. What really amazed me was his response when I said sorry…something to the effect of "Not a problem ma'am, we will wait for you…enjoy your meal"…all with a ready smile. Unfortunately, I did not get his name….but I believe that he was a Malay chap. We then asked for the cake. They quickly brought it out for us, lit the candles & turned down the lights (without being asked). They even offered to take pictures for us. Now, that's what I call a 'positive surprise'! We continued our chatter (it was unavoidable as we had not seen each other for a while) and when nearing midnight, asked for the bill. We paid, but we still sat for a bit, everyone having a good time. Through it all, the staff kept topping up our glasses of water without being asked! Finally, nearing midnight, we bid the staff a good night, thanking them again for their great service and apologizing for having them stay 'overtime'. They in turn, bid us a warm farewell. Never once did they say or show any displeasure (body language or otherwise) for our over-stay at your restaurant.
Being from the service industry, it takes a lot to delight me. Yesterday, I was and I am sure that I am speaking for my family as well. And so. I would be really pleased if you could convey our thanks again to your last night's team and do keep up the excellent service!
P.S. May I also add that their little act of kindness has now allowed me to 'broadcast' and recommend you to my friends…so, here's to better business too!
Cheers,
Q: What can we do to improve your experience?
Actually I am quite happy!
The service is already satisfying.
To be honest – not a lot! We only discovered your delicious pizzas a few months ago, and now return week after week – definitely (in my opinion of course..) the best pizza in Singapore-hands-down. Your staff are fantastic. We <3 Pasta Fresca!
The food was delicious and was prepared with lots of care and thoughts. You have wonderful staff. I felt so pampered when I was there. The ambience is good too. Thank you for such a nice experience. Thank you to the Chef too.
We had an enjoyable evening at Pasta Fresca Boat Quay especially our Bosses. They loved the privacy and ambience including the authentic Italian food and wine. Our compliments to the chef.
Your crew led by Mr Tiru together with Eleanora and another chap (can't remember his name) were extremely helpful and we felt pampered by their quality service.
Once again, thank you for facilitating and this is certainly a restaurant that's worth a repeat visit.
My favourite pasta place has always been Pasta Fresca. It's been around since 1988 and they even have their own theme song. Surprisingly for a chain restaurant, its standards have always been consistent, and of a very high quality as compare to some other standalone pasta places I've been to. Two words to describe it, hearty Italian! I feel genuine sincerity when I indulge in the pasta here and the warmth in my stomach goes all the way to my heart. I also prefer the Bukit Timah branch because the Italian owner Salvatore Carecci is always there serving and entertaining guests personally! See if you can spot him. He usually makes his rounds to ask the guests how they find the food. When the owner is there personally, you know there is always quality control.
The fact that you can choose from a variety of handmade pasta make it fun too! This includes stuffed gnocchi and ravioli! But take note if you order stuffed pasta, the serving size will be smaller. So if you are feeling ravenous, go for the others. The pasta is always PERFECTLY al dente. Just soft enough to absorb the juices, but still with that chewy spot in the middle. Just the way I like it. Plus prices are so affordable for food of such high quality. Sometimes when I dine at pricey restaurants, I often have that feeling that the SGD3.00 char kuay teow and some hawker centre would have given me more of a kick. But this is never the case with Pasta Fresca…
Thanks for the catering service. The food was good and the portions generous…
I am so pleased with all that you did to make our event a success. Thank you!