I would just like to thank you and your team at Boat Quay for the wonderful service they gave when we visited your Boat Quay outlet on 6th August 2015. Not only were the waiters very friendly and helpful, the meal service was fast and the food was delicious. Your recommendation of booking the entire floor also allowed the students to have a great time mingling with each other. All in all, everyone enjoyed themselves very much. Please pass on our thanks and gratitude to the staff at Boat Quay as well!
I called to personally thank you and your staff for the wonderful service! The arrangement was great and every little detail was taken care of. We were highly impressed with the installation of an additional wifi router just for us and appreciate the effort. Walia and Ramon made sure everything was up to the mark!
The food was amazing too and even though we had quite a bit remaining, there was nothing left to take back as most of the takeaway boxes were grabbed quickly by some of our guests. The guests loved the house-pour red wine too and I personally loved the Tiramisu. The venue was convenient and had a great view from upstairs.
I will definitely recommend Pasta Fresca Da Salvatore to any one else looking to host any dinner or private events. It surely is our go-to place for our company's future events.
Thank you once again for all your efforts,
We have had a lovely lunch at your restaurant on Sunday, 26 July. Our guests enjoyed the ambience tremendously, the quality of food and the gracious service by your staff-in-charge throughout our lunch. I particularly liked the idea of replenishing fresh foods from the kitchen and freshly brewed coffee for each guest.
My oversight was that I somehow have assumed that we were expecting your signature dessert, Tiramisu. I could have mixed up with our discussion on the set lunch. Nevertheless, we ordered and your staff served us promptly.
Thank you for providing a lovely premise for our event and pls convey our appreciation again to your staff member.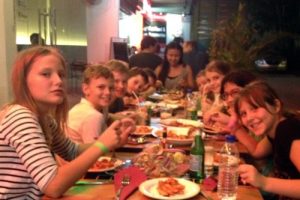 Dear Management and Staff of Pasta Fresca at Bukit Timah,
We would like to extend our sincere gratitude for your very friendly and attentive servicing of my daughter's birthday dinner at your restaurant last Saturday. Your friendly and patient attitude really made the evening very special for Laila and all of Laila's friends enjoyed being part of it. See you again soon at Pasta Fresca!
The food and everything was great!! We enjoyed ourselves thoroughly and thank u for arranging it for us!!
I had a function at your Boat Quay premise on Saturday 16 May to celebrate my son's 21st birthday. I would like to say a big Thank You to you and all staff of Pasta Fresca for the excellent support rendered in making the function a success. I would in addition wish to commend your Restaurant Manager – Mr Tirumal – for the excellent service and professionalism shown. He executed his task perfectly, from the taking of the each individual orders to ensuring each one got what they had ordered. There was no mistake. He was also so involved in executing other tasks himself. With such an attitude, I am sure he is well respected by the staff at Pasta Fresca. Definitely an asset to have Mr. Tirumal with you. Once again – Thank You
We had an enjoyable evening at Pasta Fresca Boat Quay especially our Bosses. They loved the privacy and ambience including the authentic Italian food and wine. Our compliments to the chef.
Your crew led by Mr Tiru together with Eleanora and another chap (can't remember his name) were extremely helpful and we felt pampered by their quality service.
Once again, thank you for facilitating and this is certainly a restaurant that's worth a repeat visit.
Pls extend my personal thanks to your boss and Glenn. They were very accommodating and great to work with for the lunch. Poor Glenn had to stand-in during the lunch and think he must be really hungry. It was such a pleasure to have him around and he was very helpful in all ways. The food was good, much better than I anticipated because I was worried about the pizza and pasta getting cold. The portable food warmers were great in keeping all the food hot and Glenn helped dish them out at the last minute when the guests arrived so they could have piping hot food.
With Thanks,
Good Food, with excellent catering service.. Keep it up!
Thank you very much for supporting us for a wonderful and successful wedding reception party.
Everything went really well, and we would like to express our gratitude to your chefs and hard working staff. Our guests feedback was also great, and I am sure they will come back to your restaurant. We hope to see you again in near future.
I ordered food catering for my farewell from Singapore on 14th May 2014 for about 50 people. The service was very efficient; the chef and his helpers arrived on time and arranged nicely and properly all the food above the tables and clearly explained how to serve it, how to warm it and so on. Food was delicious, especially appreciated were the fresh burrata and the gnocchi di patate al pesto. Food was in large amount and very generous portions. Highly recommended!!
Food is good and delivered on time, thank you….
Pasta Fresca serves authentic Italian food. The environment is very cosy and warm. The staff, especially the boss, is very attentive to details and service-orientated. I would strongly encourage anyone who is considering to organise events to hold their events there as they have one very important plus point on top of the above plus points – that is reasonable pricing.
We thoroughly enjoyed our time at your venue yesterday. Our staff all commented that they thought the food was tasty and offered good variety. We appreciated how you accommodated our request to have an informal gathering by having a few chairs but allowing people the freedom to mingle and visit with each other. The staff was attentive and very friendly. Thank you very much and we would certainly use Pasta Fresca again in the future!
Thank you so much for your arrangement last month for our solemnisation event at Pasta Fresca Boat Quay. We had a really great time that day! Thank u!
I patronized your restaurant on the 26 February 2014 at 1900 and was thoroughly surprised and impressed by the extraordinary service received from your team of waiters. We had booked the entire second level of your restaurant for a celebration. I am obliged to express my gratitude especially to the manager Maria, who worked tirelessly the entire night to ensure that our requests were met. She made sure that our jugs of drinks were constantly refilled and used plates cleared. This was no easy task considering her team of 3 catering to our large group of approximately 20 people.
In addition, we were also allowed to consume our own bottles of wine although wine was already sold on the menu. I am aware that this might be against company regulations so I would once again like to show my appreciation to Maria for her flexibility on this special occasion. Lastly, at the end of the dinner, there was a significant amount of food leftover so we requested to take them home or they would have gone to waste. Maria gladly allowed us to do so and even provided us with plastic containers to keep the food in.
I am certain that all the waiters had put in effort but I think that Maria deserves special mention for exhibiting exemplary leadership. Hence, I want to make sure that your company is aware of this.
Therefore, I want you to know that we are very pleased with the quality of service that your restaurant provides and I want to give my personal compliments to the team for their effort that night. I will be looking forward to being served by them again in the future and will also be recommending this place to all my friends and family.
We were very happy with all aspects of our company dinner on the 26th. The private dining room was perfect for the occasion and the food was wonderful.
The service staff were attentive and professional. Basketball Enterprises would be more than willing to use Pasta Fresca Da Salvatore for future company functions.
Thanks to everyone at Pasta Fresca for making this event possible. Everyone had a wonderful time. Thanks for the kind support from Pasta Fresca and we hope to have the chance to work together again soon. 🙂
Our My English School year-end dinner at Pasta Fresca @ Boat Quay was a great success and we all had a marvellous time!
I received numerous positive comments from my colleagues. They particularly enjoyed:
– the delicious food
– the pro-active service
– the atmosphere of your restaurant
and will remember it happily. That is the reason we all stayed so long…
I would like to thank you, Tiru and the team for making that wonderful evening happen and for going the extra mile for us!
We will be happy to return next year!
Everyone enjoyed all the food yesterday. Please pass on our compliments to Chef Angelo.
Thank you for all the arrangements that you've made to facilitate our celebration. The ground team at the restaurant has been wonderful. Please thank them too.
Everything went well last week! Thanks for the arrangements and efforts in coordinating this event.
Appreciate it. =)
We had an enjoyable evening at Pasta Fresca Boat Quay especially our Bosses. They loved the privacy and ambience including the authentic Italian food and wine. Our compliments to the chef.
Your crew led by Mr Tiru together with Eleanora and another chap (can't remember his name) were extremely helpful and we felt pampered by their quality service.
Once again, thank you for facilitating and this is certainly a restaurant that's worth a repeat visit.
Thanks for the catering service. The food was good and the portions generous…
I am so pleased with all that you did to make our event a success. Thank you!