Be our VIP!
Head down to our outlet and instantly redeem $20 off your bill when you sign up as a VIP Platinum Member,
or be a PF Affiliate Member and earn cashbacks each time you dine with us. It is absolutely free of charge.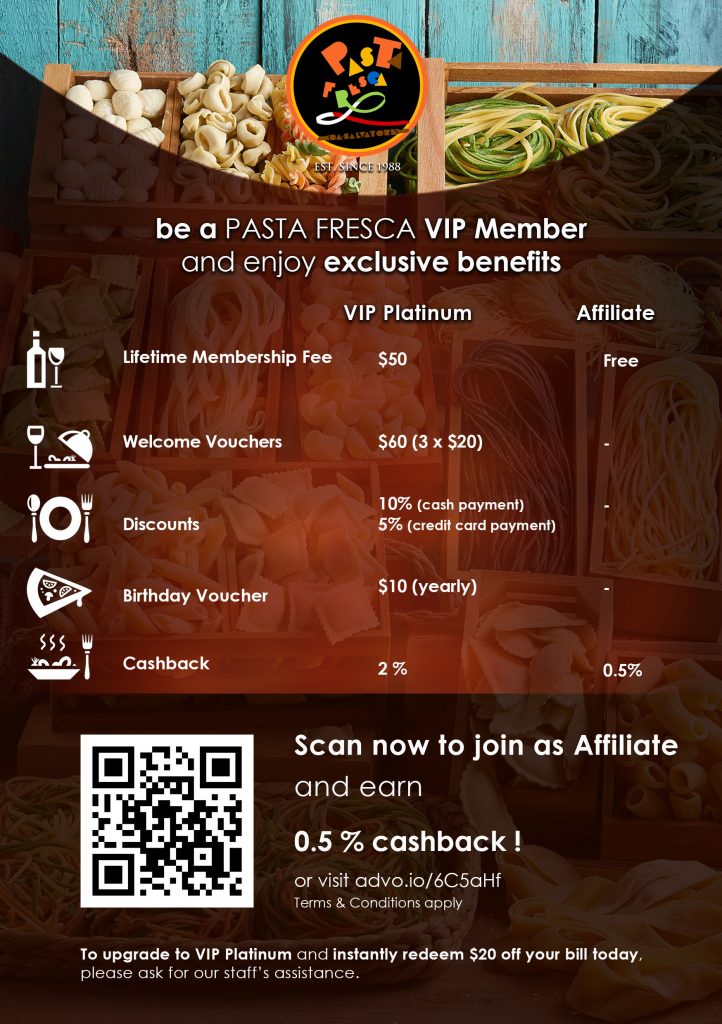 Already a Member?
Our membership system has been upgraded to serve you better.
Please register at advocado.me with your mobile number to track your benefits and refer to our FAQs more information.
Terms & Conditions of Membership
1) Membership is non-transferable and valid in Singapore only.
2) Members will be identified by mobile number. Please inform our outlet staff before billing or upon request.
3) All benefits are not applicable to orders made via delivery platforms.
4) 10% discount is accorded only for payments via cash/nets and 5% discount via credit card.
5) Discounts are not applicable on alcohol, promotion items, set menus.
6) Welcome vouchers can be redeemed at $20 per visit only. They cannot be stacked/combined.
7) Discounts, vouchers and cashback redemptions cannot be stacked/combined.
8) All vouchers expires 3 months from date issued. Extension is not allowed.
9) Vouchers and cashback earnings and redemption are not applicable on retail items.
10) Cashback is credited based on the total amount of bill settlement.
11) Cashback credits can only be redeemed at the next visit.
12) Cashback credits will expire 6 months from the last transaction earned.
13) Membership privileges may be amended or withdrawn without prior notice and at the sole discretion of the management.
14) The Management reserves the right to amend the terms and conditions.
15) Membership fee is non-refundable once paid.
16) Membership sign-up can only be made at the outlet.
17) Terms & conditions of membership are deemed to be read and accepted upon sign-up of VIP membership
18) For cancellation of membership, please email us as it cannot be processed at the outlet.
Note that all benefits will cease and rendered invalid once membership is cancelled and membership fee is non-refundable.
Note: Vouchers are accepted for take-away orders at all times including no dine-in period. Cashbacks are credited for take-away orders.
Requests of extension of expired vouchers and/or cashbacks will not be acceded to. Thank you for your understanding.